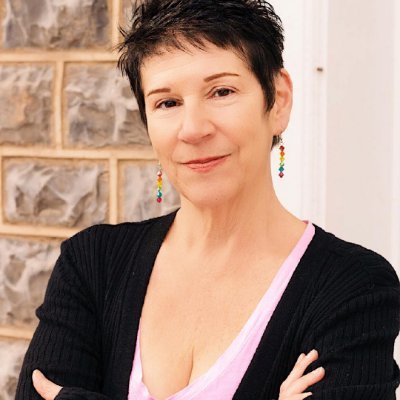 Welcome readers!
I hope everyone is well, and staying safe in this unprecedented time.  As a blogger, writer, and literary agent, I have the thrill of finding great books…and I love to talk about them!  Seven years ago, I discovered Lauren's book, THE BRO MAGNET, which is an absolute gem.  As I recall, I had just received my very first e-reader, a Barnes and Noble Nook, and one of the first books I read on that device was The Bro Magnet.  My post about that can be found here: https://smnystoriak.com/2013/03/09/the-bromantic-comedy-of-lauren-baratz-logsted/
And recently, upon recommendation, I read her book, THE OTHER BROTHER, which I review here:  https://wordpress.com/post/smnystoriak.com/3575
Once I finished reading it, I reached out to Lauren, and she was kind enough to do an interview with me here on this blog.  Sit back, relax, and enjoy this little chat with one of my favorite authors!
S.M. Nystoriak:  It's been 7 years since I last interviewed you on this blog.  Welcome back, Lauren!  Tell us:  What was your inspiration for THE OTHER BROTHER?
Lauren Baratz-Logsted:  Several years ago, I was on an online forum for readers – remember forums? – and someone mentioned Chris Jagger. Now, I'd always known Mick Jagger had a younger brother, who was also a singer/musician, but I'd forgotten about it. Suddenly, my mind began wondering: 'What would that be like?' Those of us with siblings, I'm sure are familiar with the competition of family holiday dinners. No matter how much you love each other, there's always a bit of measuring against each other, isn't there? Now, imagine you're a singer/songwriter, and you're even making a living at it, but your brother happens to be the frontman for "The Greatest Rock 'n Roll Band in the World"? And then, being me, I began wondering what it would be like to be married to the less-famous brother…and then I began to write. To be clear, the characters aren't the Jaggers – none of the characters in the book are real people – but that was the inspiration.  
S.M. Nystoriak:  This was a really fun, yet surprisingly deep story.  I found myself connecting with Mona, big time. As a teen, I can remember feeling the same excitement she did with rock stars, and as an adult, and a mom, I found her to be incredibly real.  Is there a character in THE OTHER BROTHER which you most identify with?
Lauren Baratz-Logsted:  Mona. I feel like she's trying to do the right things, trying to make things right for other people. Yet she doesn't always understand what her own motives are for doing certain things, and I think that's true of a lot of us. One of the big themes in the history of literature involves the tragedy of the human condition: the inability to ever truly know another human being. But Mona ultimately raises the question, and I raise the question: Can we ever truly know ourselves? 
S.M. Nystoriak:  It is often said that writers should write what they know.  How closely tied are you to the happenings in THE OTHER BROTHER?
Lauren Baratz-Logsted:  I am not one of those people who say "write what you know." If I tried to put that into practice for myself, all my books would be about a woman alone in a basement, writing books. That'd hardly be gripping on the page for 50K-100K words, would it? OK, that's an exaggeration of "write what you know," but I still find that classic bit of advice to be too facile and too easily open to misinterpretation. So the advice I would give people is: Write what you *want* to know. Write about the things you're dying to explore. 
S.M. Nystoriak:  That's an excellent perspective!  Well said!  When I was growing up, my family listened to a lot of classic rock.  The Stones, The Beatles, David Bowie, Elton John.  I also admired and followed the music of several 80's pop stars, mostly British.  Duran Duran was an absolute fave when I was in my teens, but there were many others.  Have you always been a fan of rock and roll music?  Did you have any music idols growing up?
Lauren Baratz-Logsted:  My brother is two years older and when I was fairly young, he got a monthly subscription to some record club. So the first albums I was exposed to were all rock bands, like Led Zeppelin and Deep Purple. I definitely enjoyed getting my pop fixes from the radio, but my brother's taste set the template for my taste. Then, when I was 12, a close friend turned me on to the breadth of Rolling Stones music. In terms of idols, the usual ones for my era: Mick, Robert Plant, Roger Daltrey – British men with great hair and distinctive voices. 
S.M. Nystoriak:  How about now?  What kind of music are you streaming these days?
Lauren Baratz-Logsted:  HA! You're confusing me with someone who streams music – I still have a flip phone! I listen to CDs at home and in the car: lots of classic rock; music from earlier eras than that, lots of Sinatra and some Billie Holiday; and – don't judge! – "The Music of Nashville," i.e., the TV show.
S.M. Nystoriak:  You crack me up!  As a musician myself, I can attest that those are some fabulous artists and genre's!  OK…I have noticed a recurring setting in your books:  Connecticut.  What is the significance of Connecticut?
Lauren Baratz-Logsted:  I've lived my whole life in Connecticut, even went to college instate, so I guess that part of my writing really is, at least in part,  "write what you know." But plenty of my books do take place in other states or countries, reflecting my own travels and interests.
S.M. Nystoriak:  Another connection:  In THE OTHER BROTHER, Mona and her family are from England, and they travel to Connecticut for a holiday.  I noticed you have another book which takes place in England, about a commoner marrying a British royal.  Have you ever lived in Britain, or traveled there?
Lauren Baratz-Logsted:  And I've written several other books that take place in England! In addition to the two you've mentioned, if my math is right, there are six others that take place in England. I've only been there once, for eight days in 1993, but after a lifetime of reading a ton of British books and watching an insane amount of Masterpiece Theatre"… What can I say? I've never stuck to any single genre or time period for my writing – I just write the stories I want to write and then set them in the time and place that the story dictates.
S.M. Nystoriak:  Nice!  Obviously, I have some more reading to do!  And, I also follow the mantra,"Write the book you want to read".  I began writing seriously about ten years ago, after the stress caused by local and world events got the better of me.  My writing output increased dramatically during that time.  Do current events have an effect on your writing output?
Lauren Baratz-Logsted:  Short answer: yes. Longer answer: I've been writing for over a quarter of a century and for the overwhelming majority of that time, I could write through anything, good or bad, that was going on in my life or in the world. These past few months, though, with this tsunami of things going on, I've had to set my expectations for myself a bit lower. I just can't work straight through like I used to. I mean, Twitter alone – when I first started writing, there was no Twitter. But now? It's too easy to leave that open and before you know it, you're taking a quick break from writing that turns into: 'Wait – what did he say now?' – or "What did they do?' and that quickly turns into 'Well, I've got to say something about this, I can't just keep silent.' Before you know it, well, there's another hour gone. 
S.M. Nystoriak:  So true.  Alright…Last item!  Tell us about any other projects you might be working on.  What can we expect to see?
Lauren Baratz-Logsted:  Ooh, thank you for asking! This coming February 9, 2021, my 20-year-old daughter Jackie Logsted and I have a book coming out from Penguin Random House that we wrote together. It's an adult comedic romance called JOINT CUSTODY. It does *not* take place in Connecticut but it is about – and written from the point of view of! – a border collie named Gatz. When Gatz's beloved owners, The Man and The Woman, split up, Gatz resolves to do everything in his power to get them back together. But when New Man appears on the scene, well, complications to Gatz's plans ensue. It's a lighthearted book about happiness and what it really means to love. Here's hoping readers have as much fun reading it as we had writing it. Thanks for having me!   
S.M. Nystoriak:  That sounds amazing!  It would be so wonderful to collaborate like that on a book!  You are fortunate, for sure!  Thank you so much for taking the time to answer these questions, Lauren!  As always, it's a pleasure to dive into your books!
For more information, Lauren can be found:
I cannot recommend Lauren Baratz Logsted's books enough.  They are always, exactly what I need!
Let's Connect!  Have you read any of Lauren's books?  What authors do you read that always write "exactly what you need"?  I'd love to hear about it…Chime in below!